OceanWP is one of the most popular free WordPress themes with tons of premium-like features. It has its own companion plugin and recommends installing a free page builder plugin upon activation. It can be used for any kind of website including blogs, magazines, business website, or an eCommerce store.
It includes multiple layout choices, full width pages, two navigation menus on top, custom logo support, multiple sidebar areas, beautiful image galleries, and more. It is super flexible but still very easy to setup with live customizer support.
Need a blog theme with minimalist approach to design? Checkout Modernize. It is a simple WordPress blog theme with collapsible menus and it comes in one and two column layouts.
Designed to improve readability it uses clean typography and elegantly handles featured images.
Nisarg is a beautiful free WordPress blog theme. It comes with a clean layout with two navigation menus and a large full-width header image. It also supports custom backgrounds and colors.
All theme options are easily customizable using the theme customizer. It also comes with multiple post formats for videos, gallery, audio, chat, aside, quote, etc.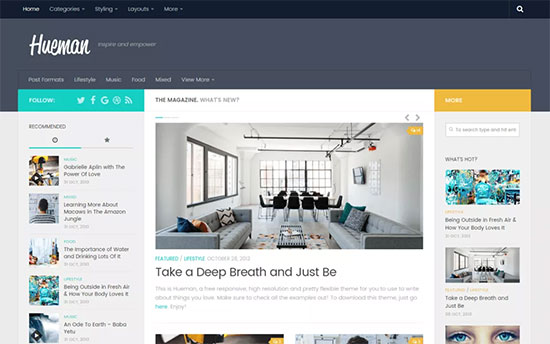 Hueman is one of the most popular free WordPress themes. It comes with a multi-column layout and can be easily used on any kind of content rich blogs or magazine websites.
You also get support for custom headers, two column layout, full width layout, and tons of easy customization options.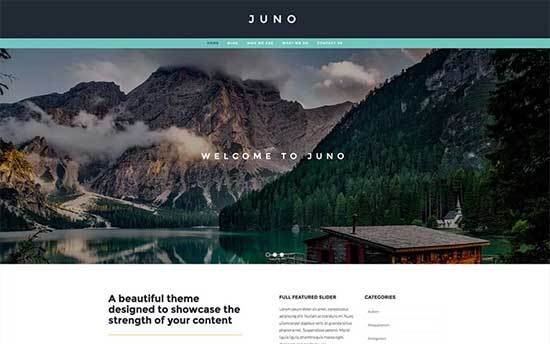 Juno is an elegantly designed free WordPress blog theme. It allows you to easily customize colors and fonts. Juno includes features such as a slider area, masonry style blog, fully responsive design, and multiple widget areas.
It supports WooCommerce and comes with page, product, and blog post layouts.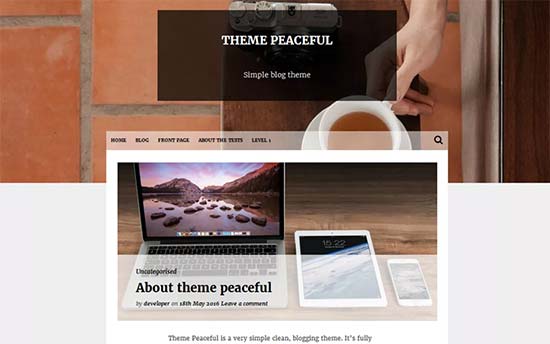 Peaceful is a minimalist WordPress blog theme. It features a single column layout with large header image, a compact navigation menu, and beautiful featured images. It is quick and easy to setup and looks great on all devices and screen sizes.
Newspaper X is our latest free theme release and makes our total of published themes to number ten. Along the way of publishing some of the nicest themes (according to individual reviews), we've learned what it takes to build a theme which works well. The Newspaper X is a polished blogging theme with multiple magazine elements. The core principle behind Newspaper X is to highlight as much new content on the homepage as possible. As a result, you can add numerous layers of content categories on the homepage. Which creates a newspaper like atmosphere, and focuses on readability rather than things like widgets.
Apart from the footer area, you won't find any widgets on the homepage. However, you won't need them because Newspaper X adds additional ways to highlight any content you want. A tidy content slider is integrated into the upper part of the homepage to display featured posts. And just below the slider is an added grid where you can put any fundamental content. Content display is mostly shown within a two-column grid, with ample spacing between each post. Colors are simple, with lots of dark colors for titles, and grayish tones for taxonomy information. Inside blog posts, the main design change is the addition of a sidebar.
Although we primarily market Shapely as a theme for businesses, countless WordPress bloggers have turned Shapely into a blog theme. It's something we've noted in the documentation ourselves. A theme as versatile as Shapely is easy to configure for personal needs. With an unmatched design, we know that Shapely is one of the most advanced themes on the free market. And numbers don't lie, with WordPress reporting more than 20,000 active installs.
The detachable homepage elements of Shapely are easy to move around, enabling you to revamp the homepage into a personal blog style. Many bloggers have recreated their sites by putting business aspects on the homepage. For example, WellnessMama used to be a blog-only website, whereas now the owner has put a lot of sales/business elements on the homepage. And the blog is relocated to the Blog section of the site. So, given that example, you can use Shapely to achieve the same result. Needless to say, the Blog layout of Shapely is pristine, with clean colors and typography, making it a great blog them on its own.
All of our free themes started out slowly, but over the years the WordPress community has come to embrace our attentiveness to detail and precision. And Activello — a simple multipurpose theme — is a prime example of a simple theme can attract hundreds of thousands of users. Professional bloggers, travel writers and fashion designers are just a handful of people who use Activello for their blog. This minimal yet refreshingly clean theme is everything you'd need to create a trending content blog. With an aesthetic arrangement of components, the Activello can help individuals like you to create a personal brand out of your blog.
As avid WordPress users ourselves, we know what it is that a theme needs to make it complete. And one of the most important things for a theme is compatibility with external plugins. As such, the Activello theme is suitable with plugins like WooCommerce, Yoast, Jetpack, Cache Plugins, and Gravity Forms. You know, the usual suspects of the best WordPress plugins for a blog. Furthermore, Activello uses Schema Markup for posts and pages, so you can get a decent SEO boost as soon as you start using this theme. Most of all, our communication channels are always open, and we're delighted to hear from users who would want to see new featured added to this already powerful theme.
It's been unreal to watch Sparkling rise to the top as possibly the best WordPress theme ever built! Would we exaggerate a claim like this for our own benefit? For several months now, Sparkling theme sees anywhere from 500 to 1,000 daily downloads. The clean and modern nature of Sparkling has truly found its "spark" in the community. The Sparkling theme is a responsive and minimal WordPress template for bloggers in all niches. Health experts, marketing professionals, and travel bloggers are just a few of the people who rely on Sparkling for best content performance. With a powerful Bootstrap 3 integration, the Sparkling can handle anything a browser would ever throw at it.
Structured to include the least amount of junk, Sparkling manages to provide a handful of powerful features. For example, once you go through the process of downloading and activating the template, you can start to dig into the juicy features. One of our favorites has to be the advanced menu. For the menu, we use Nav Walker — a dynamic Bootstrap menu feature with which you can add custom styling and font icons. The feel of using font icons in a placement like a menu is totally different from what you'd normally see on a blog. And if you seek to make your website to feel like a true home to your community, a little bit of visual spice is the way to go.
The Cali WordPress theme is both beautiful and free, offering a gorgeous blogging or magazine website for anything from travel to fashion. Upon first glance, you'll note that Cali offers a responsive layout for viewing on smaller devices. This not only improves your user-experience, but the search engines will take note and potentially boost your search results. Furthermore, Cali has a stunning format, with large photography locations and lots of white space to let your visitors breathe. It looks similar to an online magazine (with several spots to link to your articles,) but it cuts down on the general clutter and intimidating nature of a magazine. Several widgets are provided with Cali. These can be placed in areas like the sidebar, header, and footer. For instance, you might want a widget box that talks about the author and explains the history of the blog. That's available in the About Me widget, which you would most likely place in your sidebar. The carousel is one of the primary features from Cali, as it lets you share a beautiful series of photographs. You have options to show certain posts, hide thumbnails, and get rid of post dates and authors.
The Cenote WordPress theme packs quite a few features into a lightweight, free theme. It's a free WordPress blogging theme with a clean and modern layout for running a personal blog or even something you plan to make money from. The good thing about Cenote is that it uses plenty of white space and standard colors so you can use it for a wide variety of industries. For example, some people like to take advantage of Cenote for fashion blogging. Others like it for travel, food, or lifestyle blogging. It all depends on what your plans are, but the Cenote WordPress theme is flexible and feature-rich for making those changes. The theme provides a one-click installation button, along with primary color options for matching your branding and logo. The four widget areas can be placed in the header or footer, as well as the sidebars. This theme is made to work well with the search engines, so you can boost your rankings and try to find new readers with all of your posts.
Boxed and wide layouts ensure that your site either covers the entire screen or cuts off at the sides. You'll also find that the Cenote WordPress theme includes a responsive design so that all of your visitors can see the content on mobile devices. The sticky menu is great so that your visitors always have the menu in front of their eyes. We like this since it's often difficult to figure out where to go–but with a sticky menu, the next step is in front of you at all times. Another item to get excited about is the social icon pack. Reveal icons from Facebook, Pinterest, Instagram, and more, using the buttons to send people to your social pages. What's more is that the Cenote theme has an area to adjust custom CSS. The demo content is great for getting started with your design, but more advanced coders will appreciate the custom CSS. Overall, the Cenote WordPress theme is a well-documented option, and you get some translation tools for improving your reach and finding an audience.
Created by DesignLab, Type is a gorgeous and impressively flexible theme that can serve as the foundation for a professional blog, an e-commerce site, or a magazine-style site. The choice is yours.
With the Type theme, you can mix and match several elements to create your own look and layout. Type includes four different styles of header, as well as three different layout styles. You can choose your sidebar position, easily display a custom logo, create and position a unique header image and more.
Type also enables you to showcase specific content on your homepage through the Featured Post type. Designate the cornerstone or flagship content that converts like crazy for your blog, or rotate through current posts if you prefer.
If you'd like to add e-commerce functionality to your blog, Type lets you do it with ease by providing basic integration with the WooCommerce plugin.
Type also provides a simplified customization process with an available live preview so you can visually check out your changes before finalizing your new styles. Choose an eye-catching accent color, upload a new logo file, and change your typeface choices with ease.
Based on the framework of the Underscores Starter Theme, created by Automattic, Type is well-coded and optimized for search. There's no need to shell out hard-earned cash for premium code simply to make your site more attractive to Google and other search engines with free Type.
Moreover, you'll find that Type is based on a responsive design approach, rendering your blog friendly to mobile users on all kinds of devices and providing a superior user experience to your audience.
Type displays beautifully on all current browsers, including Firefox, Internet Explorer (v. 11 and later), Chrome, and Safari. The theme also comes with .pot language files, and can be translated readily into other languages, if you're targeting a more global audience.
A premium version is also available, offering more blog layouts styles, a responsive carousel slider, premium widgets, and Google font integration to increase your typography options.
A minimalist approach makes Blog Way an expansive, flexible theme for blogs in a number of niches. It's particularly well-suited for blogs built on personal brands, such as coaches, consultants, freelancers, and artists.
Delivering a clean, streamlined look with a professional attitude, Blog Way can be customized in a number of ways. You'll enjoy unlimited options when it comes to your blog's color scheme. Widgets help you direct readers to all your profiles on major social networking sites, among other things.
The theme enables threaded comments on your posts and pages. This is a great approach for bloggers who want to build their communities on-site and encourage conversations between users. It also offers pagination options, a full-width layout as well as optional left and right sidebars, and the option to turn a post "sticky" to keep it at the top of your list of posts.
Blog Way integrates easily and plays well with Woo Commerce. So if you're ready for an online store as part of your blog, you'll find it a relatively simplified way to get started.
Of particular note is the author profile widget. This widget lets you highlight the personality behind your brand, making Blog Way perfect for solopreneurs, authors, freelancers, coaches and consultants. Essentially, this theme is perfect for anyone whose brand is personal in nature or who needs to highlight themselves as the brains behind the blog.
Blog Way promises a responsive experience for visitors using mobile devices, as well as the ability to create and feature a custom menu. And when you're ready for more, there's also an available Pro version for purchase from Themeforest. The Pro version offers custom Google fonts, the ability to customize the site footer, and additional layout options.